Regular price
$661.78 BND
Regular price
$1,107.71 BND
Sale price
$661.78 BND
Unit price
per
Sale
Sold out
The all-new 2020 Hurom H200 Easy Series slow juicer represents the very latest in cold press juicing technology. Its new Mega Hopper design enables whole fruits and vegetables to be inserted without chopping. The trimming wings in the hopper then cuts, adjusts, and pushes ingredients as they travel through the juicer, reducing your preparation time drastically. The H200 slow juicer also comes equipped with Hurom's new dual strainer system, making it easy and effortless to wash, clean, and reassemble your juicer after washing. Simplified design elements to both the strainer and drum specifications ensure easy assembly and a quick and easy clean.
Features
Newly designed 'Mega Hopper' for insertion of larger ingredients without chopping beforehand
Fast and thorough cleaning with dual strainer design
Amazingly convenient to use
Slow rotational speed of 50 rpm
400-milliliter chamber capacity
Double-edged, high-strength auger
Easy-to-use lift lever
Versatile juice cap for convenience
Low-noise, low-vibration AC motor
Easy use and meticulous design
Specifications
Chamber Capacity
400 ml
Dimensions

286 (W) x 176 (D) x 445 (H) mm

Weight
6.5 kg
RPM
50 rpm
Motor
A/C
Power Consumption
230-240 V, 50 Hz, 220w
Cord Length
1.4 m
Materials

Body – ABS
Chamber – Tritan
Hopper – ABS

Accessories

Mega Hopper
Chamber
Squeezing Screw
Fine Strainer
Coarse Strainer
Juice Container
Pulp Container
Pusher
Cleaning Brush

Manual
Recipe book

Colours

Matte Black
Pearl White

Household Size
1-4 Pax
Warranty
Hurom Singapore offers a 2-year warranty on manufacturing defects and 10-year warranty on motors for juicers authorised to sell in Singapore. Juicer repairs are carried out at our service center at Paya Lebar.
Share
View full details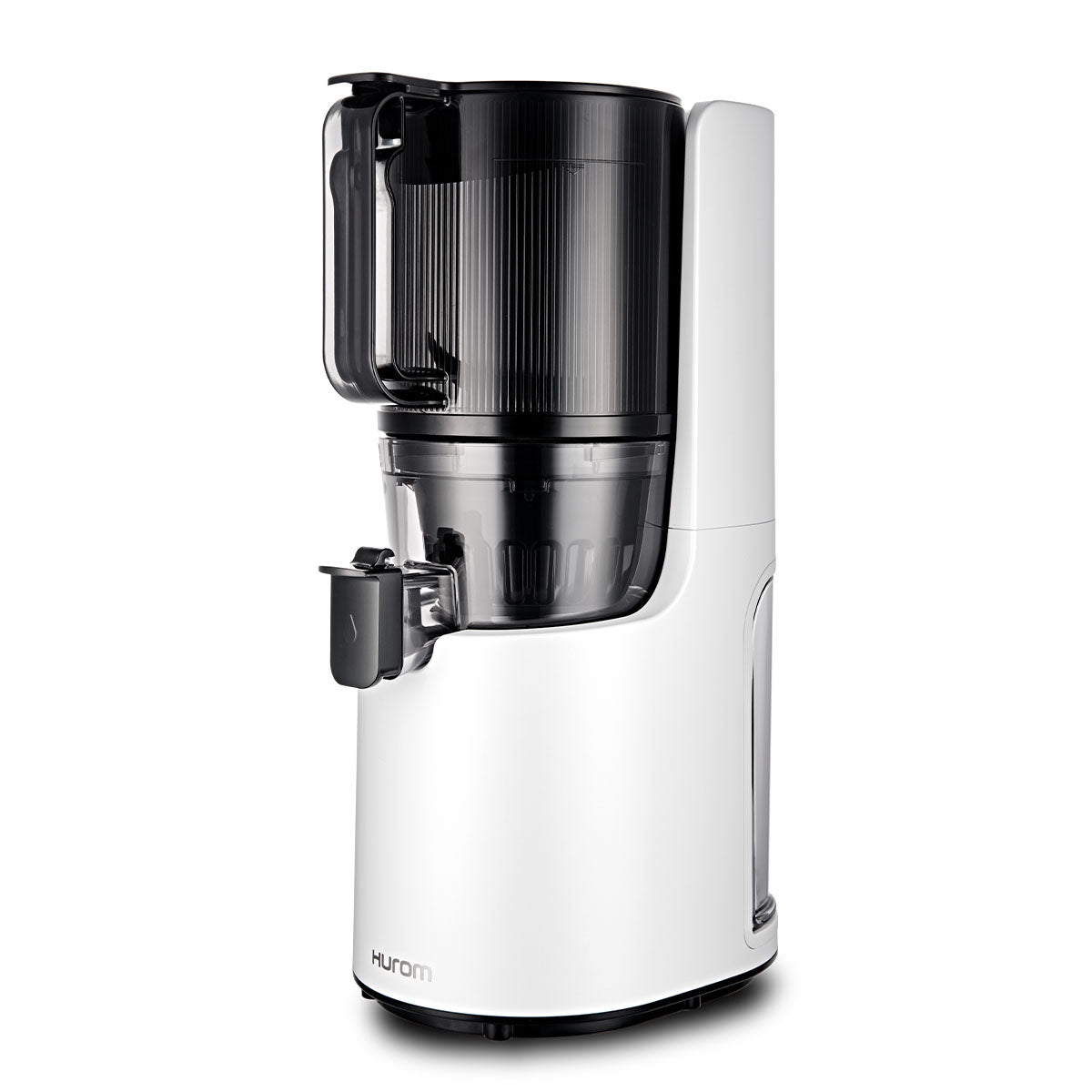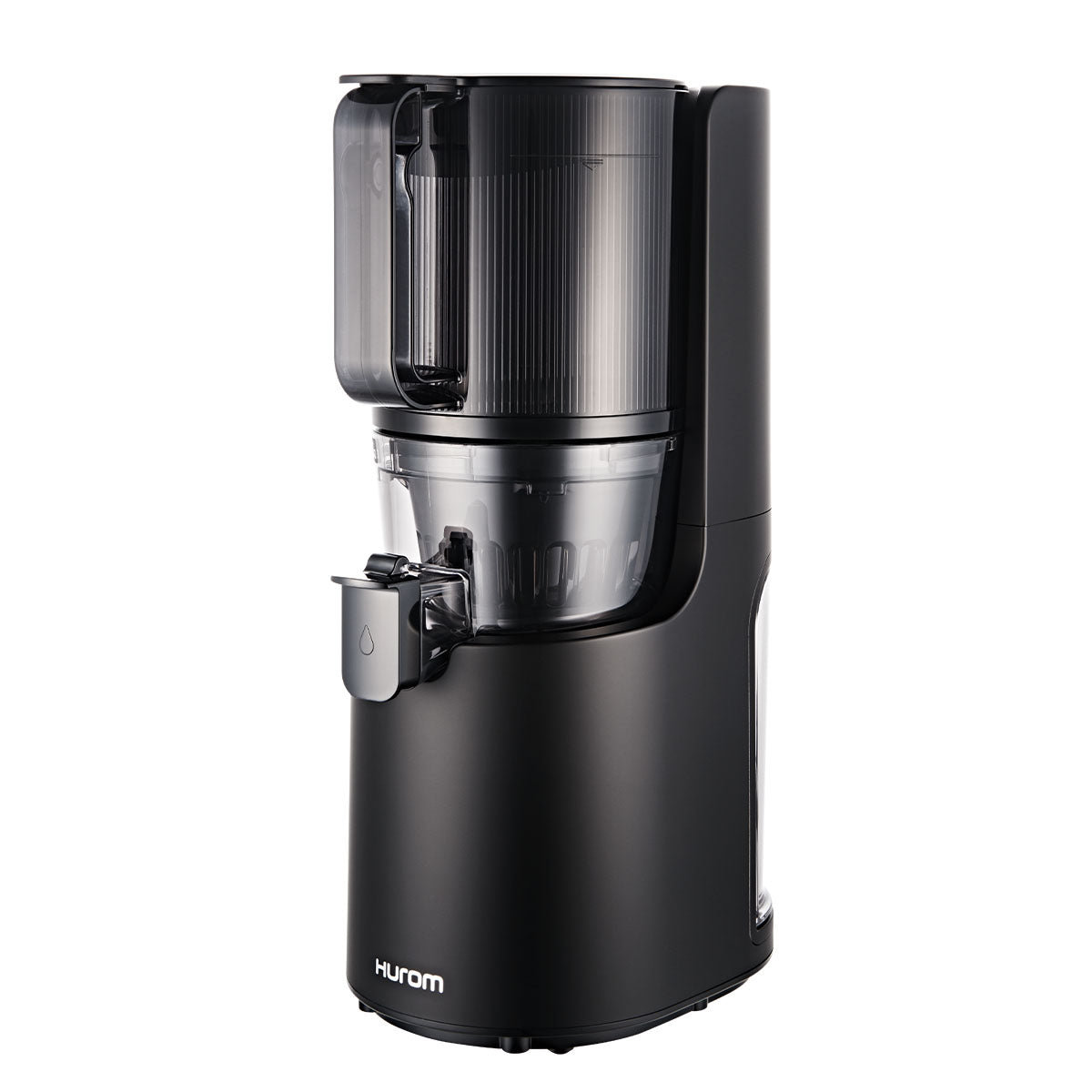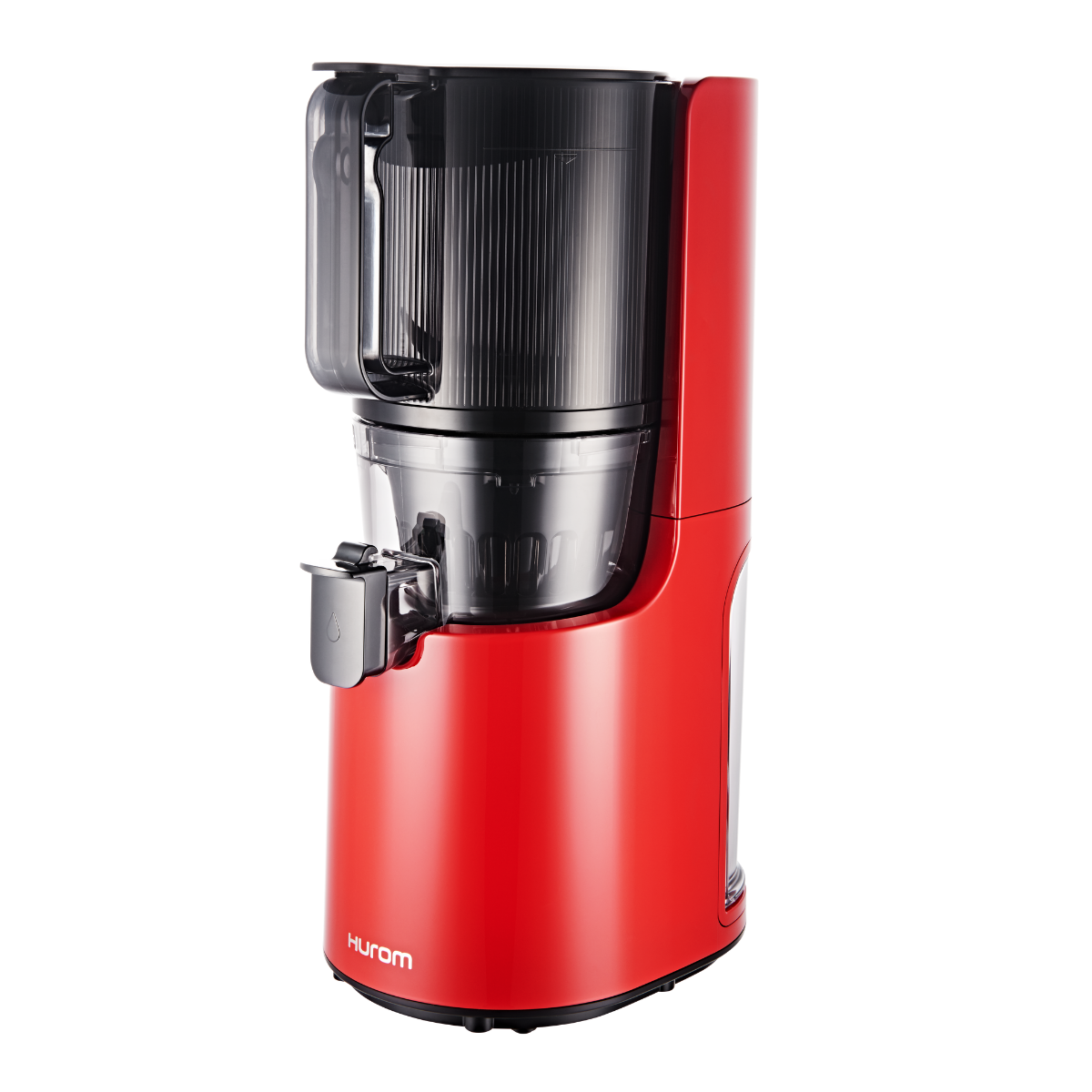 Excellent for its job
It does maximise the juice from every thing you put in. However, cleaning was still troublesome. However, overall, like it as we don't waste food.
Love this juicer
Easy to use and clean. Reciting all juice lover.
Swift delivery and really convenient product
Received within 3 days. Have been using it for a week. Its really convenient to use, easy to clean, easy to setup
Simply Perfect: The Hurom H200 Easy Series Slow Juicer
After the success of our Hurom H100 Easy Series slow juicer, we took it on ourselves to perfect it even further.

To achieve this, we based our future designs on user feedback. Many of you loved the Easy Wash mechanism, and wanted something which would make the juicing process even easier.

So, we set out to design a completely new juicing mechanism that will revolutionise the slow juicing industry forever.

The wait is over — enter the Hurom H200 Easy Series. Easy to wash, easy to assemble. Now even easier to juice.

At A Glance: The New Amazing Benefits of the Hurom H200 Easy Series

The New Mega Hopper: More room, less prep work
Enjoy the perks of the new Mega Hopper's chute by placing in whole fruits and vegetables instead of chopping them into pieces.
The New Trimming Wings: Automatic cutting and insertion
Introducing the newly designed Trimming Wing, cutting and pushing the ingredients inside, which means you don't have to.
Hopper chute: continuous juicing without skipping a beat
Keep adding in ingredients while the juicer is juicing through the hopper chute for added convenience and time saved juicing.
The Easiest Juicing Experience You've Yet To Get Your Hands On
With the NEW Hurom H200 Easy Series Slow Juicer, juicing your favourite fruits and vegetables is easier than ever before.

Feature-packed with well-thought out technologies and designs, we aim to deliver the easiest and most convenient juicing process ever.

From juicing, to washing, to assembly and even storage, our ingenious features makes it a must-have in every kitchen, especially if you wish to build your immune system and intake of essential nutrients through natural means.

All this while preserving the fresh taste and nutritional value of your ingredients.

Slow Juicing Made Easy With Hurom's New Mega Hopper
Hurom's Mega Hopper is an entirely new experience making healthy living easier than ever.
All In One. Indulge in free space, free hands, free time.
No need to cut ingredients into small pieces anymore with Hurom's All-in-One Slow Juicer. A complete juicing system from start to finish, from chopping to juicing.

Juicing Made even Easier — 1
No need for cutting beforehand
With the mega hopper design, you can now juice whole fruits and vegetables without cutting them up into small pieces beforehand. We do the work for you, while you sit back and enjoy our Hurom juice.
JUICING MADE EVEN EASIER — 2
Fit more ingredients in
The wider, deeper Mega Hopper can easily handle bigger quantities, and sizes, of fruits and vegetables. It can even fit 3 whole apples with room for more!

JUICING MADE EVEN EASIER — 3
Automatic cutting & inserting
Introducing the newly designed Trimming Wing, which cuts and pushes the ingredients in the Mega Hopper into the chamber. Save the work and let us do it for you.
JUICING MADE EVEN EASIER — 4
Hopper chute for continuous juicing
Keep adding ingredients while the juicer is juicing through the hopper chute without taking a break. Using the hole in the hopper chute, you can add in smaller pieces of ingredients while the juicer is active.
JUICING MADE EVEN EASIER — 5
Hurom's Easy Series Dual Strainer
The dual-strainer system is a signature of the Hurom Easy Series. It does not miss out on even a drop of juice, squeezing once on the inside and once on the outside to thoroughly extract nutrients and juice.
JUICING MADE EVEN EASIER — 6
7-degree tilt to extract every drop
The bottom of the chamber has been designed with a seven-degree tilt to collect even the very last drops of juice after the juicing process is complete, with no need for the user to tilt the device manually.
Arguably The Easiest Washing & Clean-Up Experience Ever
Cut away the tedious and time consuming washing up part of your juicing routine.

With Hurom's Easy Series' redesigned strainers, it removes the need for arduous scrubbing, allowing you to clean your juicer in literally minutes by just rinsing it under running water.

It's that easy!

Mega Quality, Mega Functionality.
With Hurom, we strive to extract the highest quality of juices from your fresh fruits and vegetables, using technology to model after the most natural means of doing so.

Taking into account the functionality our juicers is a big part of our meticulous design process, and we incorporate features that would make juicing most convenient for you, while adding a touch of style and elegance.
Hurom H200 Easy Series — Quality
Hurom's Slow Squeeze Technology
The slowly rotating screw squeezes and extracts nutrients while generating a minimal amount of frictional heat and oxidisation, keeping taste, colours, and nutrients intact.
HUROM H200 EASY SERIES — Quality
Hurom H200 Safety Features
The Hurom H200 features an auto-locking safety sensor, which makes the juicer stop automatically if the lid is opened during use. A sturdy handle is built into the hopper to allow you to easily carry the chamber set firmly.
HUROM H200 EASY SERIES — Functionality
Simplified design for easy assembly
The design provides pre-determined grooves that fit together when the Mega Hopper Set is placed onto the body, for a perfect fit every time.
HUROM H200 EASY SERIES — FUNCTIONALITY
Simplified design for space efficiency
The Hurom H200's pulp cup is integrated into the body, taking up less space in your kitchen and saving the space used by 50%.
Unboxing The Hurom H200 Easy Series
Here's what you can expect to experience when you purchase our H200 Easy Series slow juicer! A complete set of goodies and more to kickstart your journey into a healthy lifestyle through slow juicing.

Simple, delicious, healthy:
Hurom. Everyday.
One colourful, nutrient-packed glass of juice a day
For a healthier and more youthful lifestyle, it is important to consume a balanced blend of fruits and vegetables of varying colours and flavours.

Enjoy the rich flavours and health benefits you deserve with the New Hurom H200 Easy Series slow juicer.
See Hurom Recipes