Regular price
$668.00 SGD
Regular price
$888.00 SGD
Sale price
$668.00 SGD
Unit price
per
Sale
Sold out
The Hurom's HA-2600 Classic Series slow juicer is one that is loved by many for its sleek design, reliable performance, and excellent efficiency. Equipped with Hurom's patented Slow Squeeze technology, it's guaranteed to produce delicious, pulp-free and nutritional juice.
Features
Slow rotational speed of 43 rpm
500-milliliter chamber capacity
Double-edged, high-strength auger
Adjustable control lever to accommodate different ingredients
Four spinning brushes that rotates and mixes ingredients
Includes different types of strainers to make different types of juices

Versatile juice cap for added convenience
Low-noise, low-vibration AC motor
Easy assembly and disassembly
Available in 5 stylish colours
Specifications
Chamber Capacity
500 ml
Dimensions

223 (W) x 179.7 (D) x 407.4 (H) mm

Weight
4.8 kg
RPM


Spinning brush – 17 rpm
Auger – 43 rpm

Motor

A/C, 

90Ø

Power Consumption

230~240V, 50Hz, 150W



Cord Length
1.4 m
Materials


Body – ABS




Chamber – Tritan




Fine Strainer – Stainless steel, PEI (Ultem)




Hopper – ABS




Ice cream Strainer – BISEN




Squeezing Screw – PEI (Ultem)



Accessories

Chamber
Squeezing Screw
Hopper Cover
Fine Strainer
Coarse Strainer
Ice cream Strainer
Drying Rack
Pusher
Juice Container
Pulp Container
Cleaning Brushes
Manual
Recipe book


Colours

Midnight Blue
Matte Silver

Household Size
1-4 Pax
Warranty

Hurom Singapore offers a 2-year warranty on manufacturing defects and 10-year warranty on motors for juicers authorised to sell in Singapore. Juicer repairs are carried out at our service center at Paya Lebar.
Share
View full details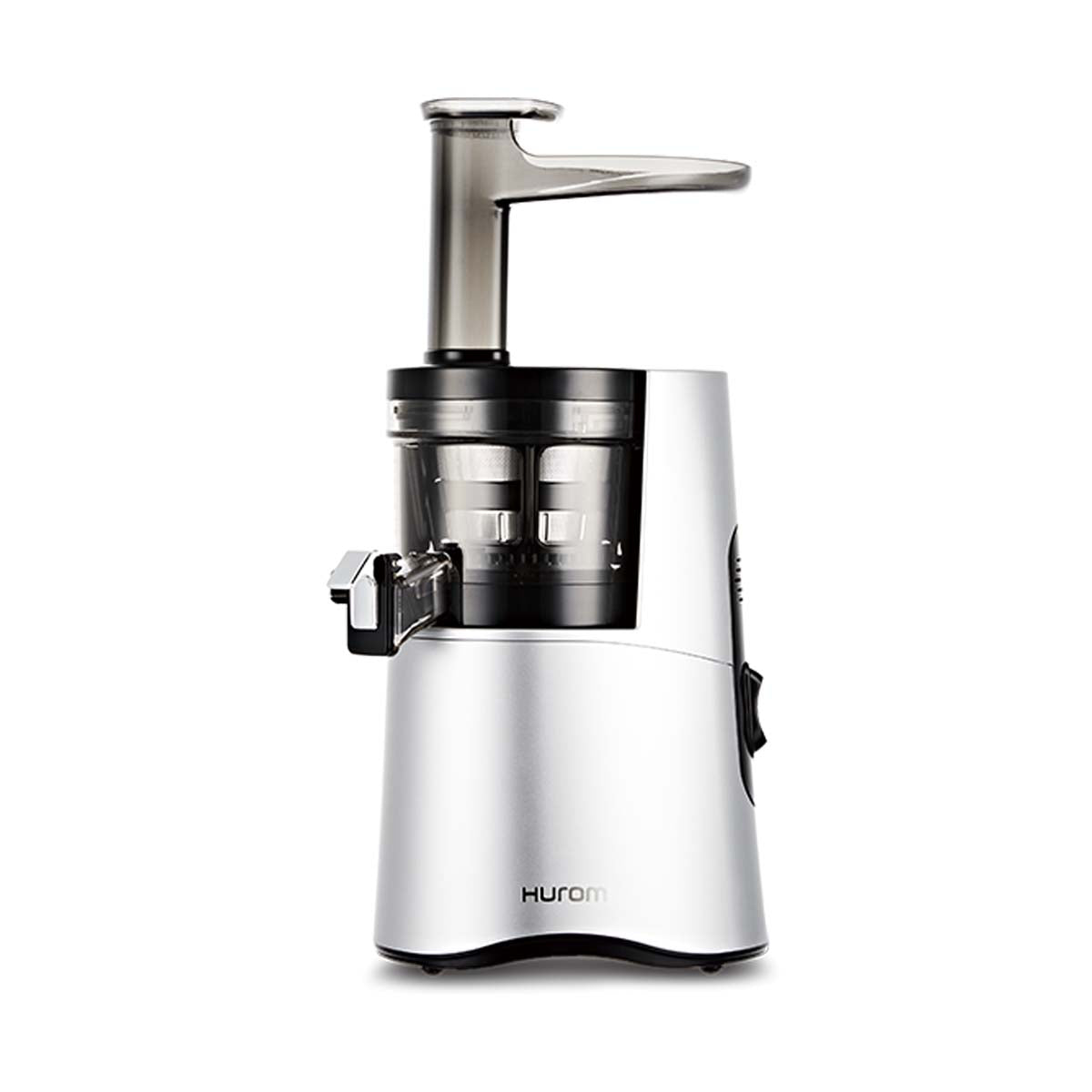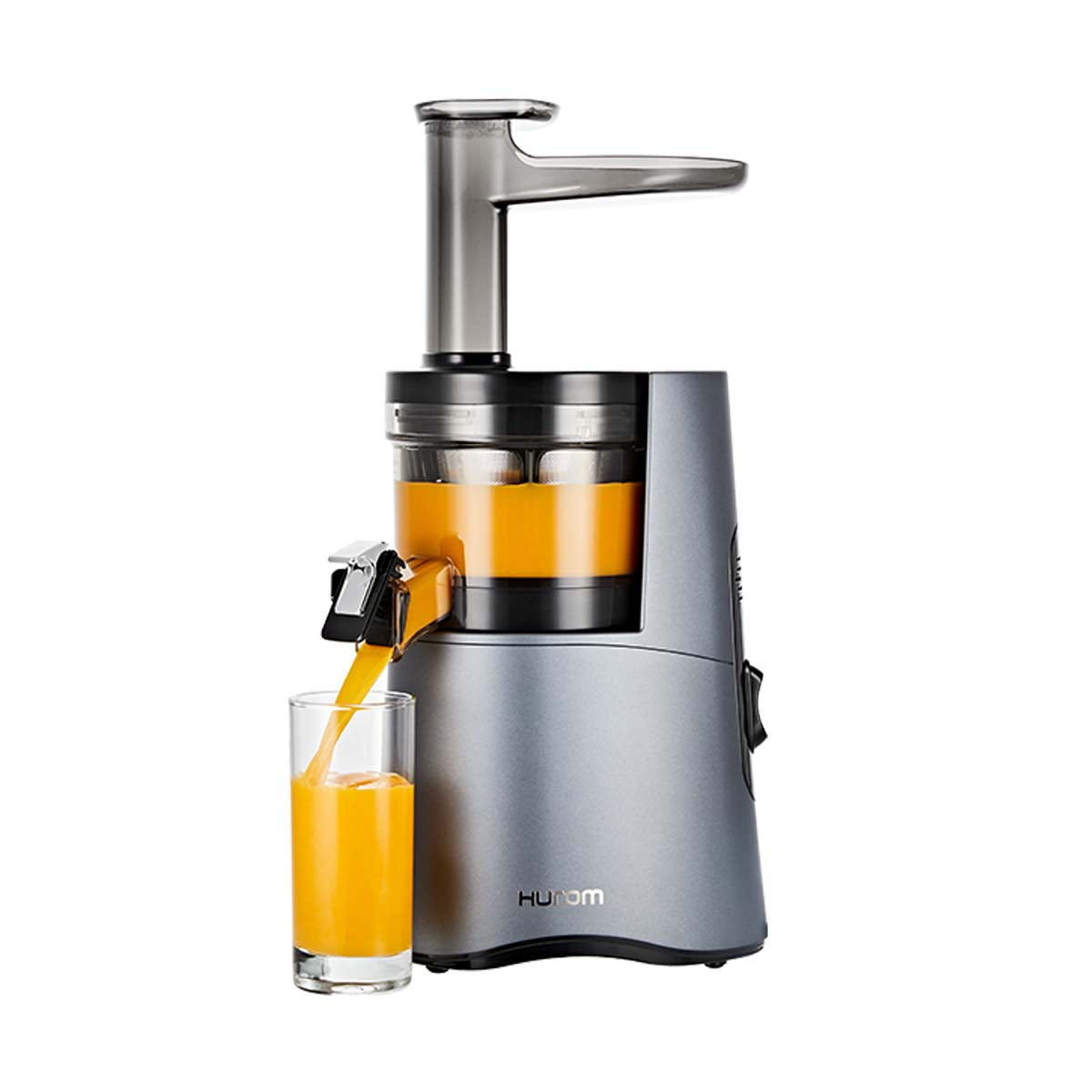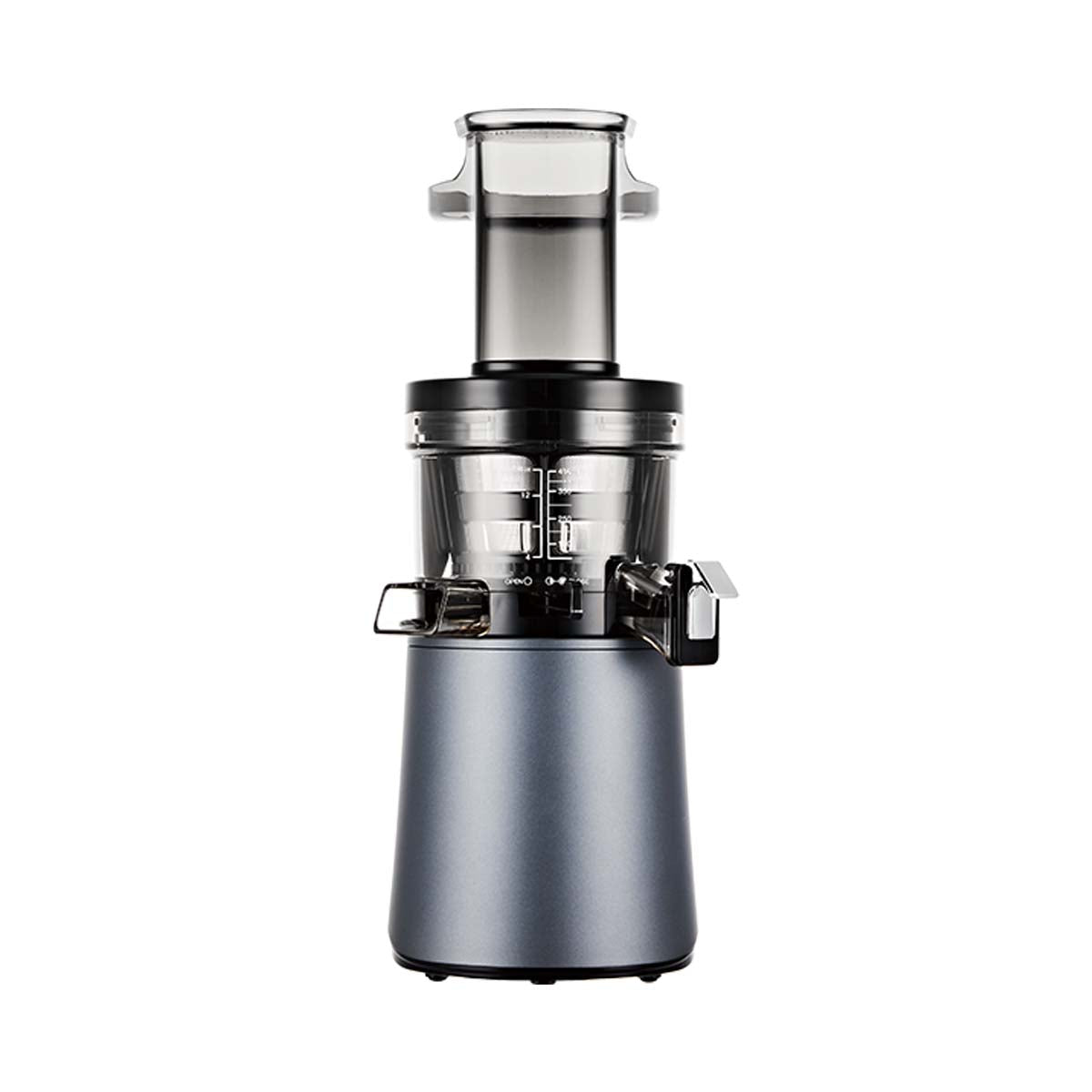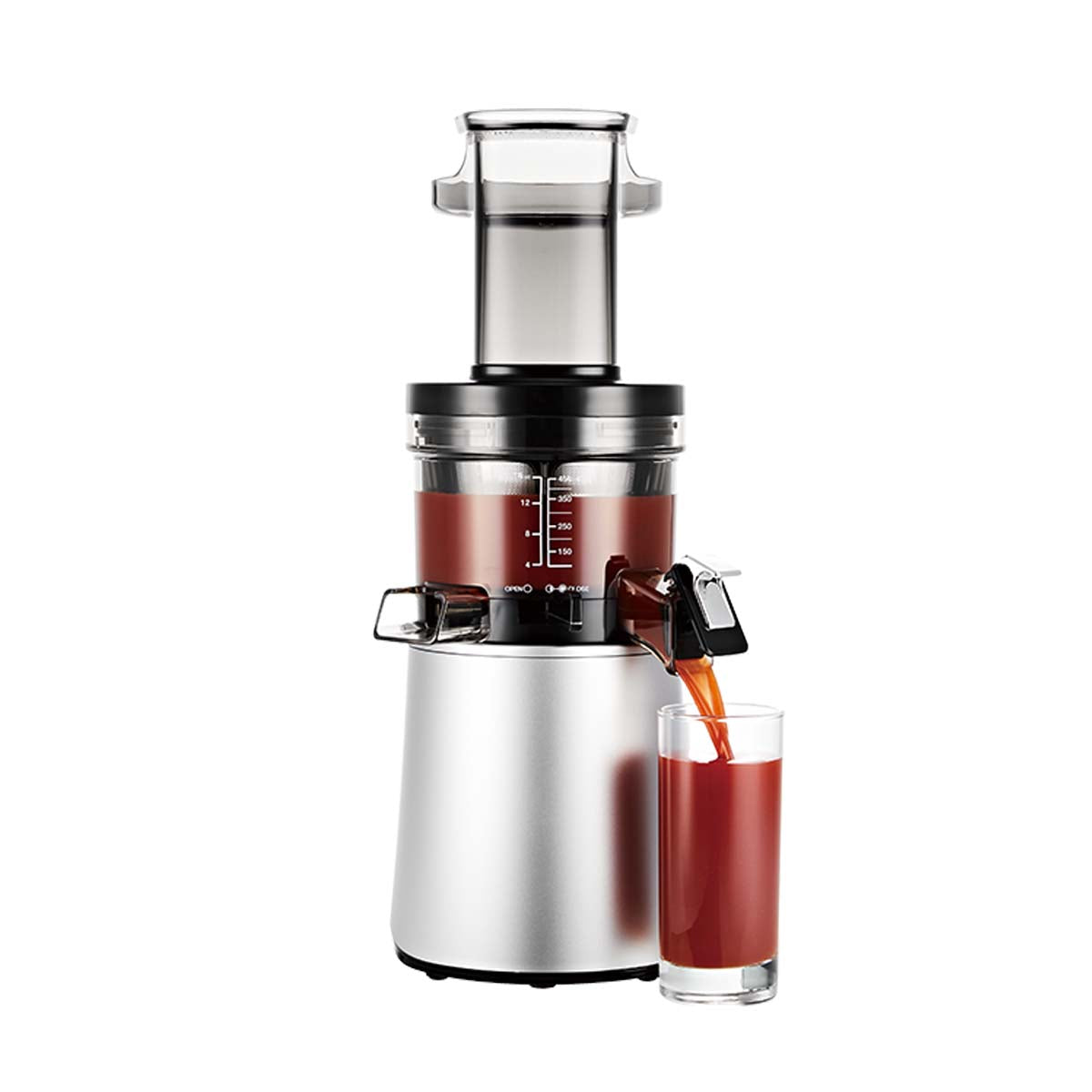 Delivery was very fast, received within two days.
Juicer is good as expected, tested with orange. Need to test with more fruits. Delivery was very fast, received within two days.
Got it at 7/7 deal and happy with the product
A beauty and very quietly working at its best!
this is a very good cold press juicer. we have an older model that is 6 or 7 yrs old? when it was first launched here. juice came out very fresh.
Hurom HA-2600 Classic Series Slow Juicer
The Hurom HA-2600 Classic Series is a slow juicer that is loved by many for its design, performance, and efficiency in creating a variety of delicious juices.
Improved Slow Squeezing Technology
43 RPM
After much deliberation on how to perfectly capture the taste of nature in a cup of nutritious juice, we have decided to lower the speed of our juicers' auger by half, from 80rpm to 43rpm.

Also, our new double-edged auger is capable of squeezing out every last drop of juice from your ingredients, effectively releasing all the beneficial enzymes and nutrients bound to the fiber.
Chamber of the Classic Series
Chamber: Made of a BPA-free Tritan plastic, the 500-milliliter chamber of the Classic Series now has a significantly larger capacity.

Fine Strainer: Keeps the liquid and solid components of the juice completely separated inside the juicer, making it possible for the user to produce pulp-free juices. Made of highly durable stainless steel and PEI plastic, the fine strainer has been designed to withstand the high pressures produced by the auger.

Spinning Brushes: With the addition of more spinning brushes, the Classic Series now features four brushes that operate simultaneously to keep the solid and liquid components of the juice thoroughly mixed inside the strainer and chamber, ensuring the smooth discharge of juice from the machine.

The classic way to make, drink and enjoy natural juice
The Hurom HA-2600 Classic Series is the hallmark of the Hurom slow juicing experience.

Packed with Hurom's trademarked technologies, sleek design and convenient functions, the Hurom HA-2600 is a must-have in every home if you wish to provide natural tasting juice that maximises your nutritional intake to your family.

Make Hurom an essential part of your daily routine.
Sleek & Functional Design — no. 1
Compact & slim
With a streamlined design that includes smooth curves that gradually becomes slimmer in the back, HUROM brings you stylish, yet modern and innovative beauty.

The wavy curves on the lower body further highlight the design and adds perfection as an elegant home appliance.
SLEEK & FUNCTIONAL DESIGN — NO. 2
Semi-transparent hopper
Watch your ingredients juice from start to finish.

Not only does the translucent hopper allow you to visually check whether the ingredients are getting stuck or being processed smoothly, it also adds a fun element when juicing together with children.
SLEEK & FUNCTIONAL DESIGN — NO. 3
7-degree tilt to extract every drop
The bottom of the chamber has been designed with a seven-degree tilt to collect even the very last drops of juice after the juicing process is complete, with no need for the user to tilt the device manually.
SLEEK & FUNCTIONAL DESIGN — NO. 4
Easy-moving handle
Apart from adding a touch of elegance to the exterior look, the curves on both sides of the bottom makes it more convenient and easy to move by simply placing your fingers on both grooves and lifting up.
Designed for Optimal performance — no. 1
Hurom's Alpha Chamber
Hurom's Alpha Chamber is designed with an enhanced structure comprising of an ultem screw, squeezing nature's nutrients straight into juice, and a 17 rpm spinning brush which slowly rotates to mix ingredients and keep the maximum amount of nutrients in juices.

DESIGNED FOR OPTIMAL PERFORMANCE — NO. 2
Blockage-free ingredient insertion
With the Hurom HA-2600 Classic Series, you can extract juice without clogging by smoothly adding ingredients. With an even quieter and smoother operation, remaining residue inside the chamber is reduced while enabling easy opening of the hopper.
DESIGNED FOR OPTIMAL PERFORMANCE — NO. 3
Blockage-free pulp releasing
The Hurom HA-2600 Slow Juicer's outlet pressure is dispersed to increase the power available to discharge the remaining residue inside the alpha chamber, making it more convenient to clean.
DESIGNED FOR OPTIMAL PERFORMANCE — NO. 4
Cooling air vent
The low rotation speed of the juicer's motor minimises motor heat when in use, coupled with the built-in air vent that helps cool down the motor, this ensures safe usage when extracting juice.
DESIGNED FOR The Environment
Harm-free, BPA-free
The Hurom HA-2600 Slow Juicer's is made from materials that are BPA-free, and are also not manufactured with bisphenol A(BPA) or other bisphenols, such as BPS.
DESIGNED FOR Guilt-Free Pleasure
Make homemade natural ice-cream
Indulge in healthy and nutrient packed ice-cream that is easily homemade from natural ingredients, without any artificial additives or sugars.
Adjustable Control Lever: A Novel Idea
With the adjustable control lever, you can adjust the width of the pulp outlet, which gives you more precise control over the pressure inside the chamber according to the type and freshness of the ingredients. This allows the user to juice different types of ingredients have more control over the texture of the juice.

Learn how to use the adjustable control lever for different types of ingredients below:
1) Juicing with typical fruits and vegetables
"Typical fruits" include apple, pear, orange, grapefruit, lemon, celery, pineapple, tomato, beetroot, kale, spinach, etc.

1) Juice a portion of the ingredients with the outlet completely closed.

2) Afterwards, adjust the lever to open the outlet halfway and juice the remaining portion of the ingredients.
2) Juicing with fruits and vegetables that contain small seeds
Fruits that contain small seeds include grape, pomegranate, kiwi, raspberry, etc.

1) Start juicing the ingredients with the outlet completely closed.

2) Then, adjust the lever to open the outlet halfway when a sufficient amount of juice has been formed and accumulated.
3) Juicing with fruits and milk together
Apply this when juicing milk and fruits such as banana, strawberry, blueberry, etc., together

1) Juice the ingredients with the outlet completely closed.
Simple, delicious, healthy:
Hurom. Everyday.
One colourful, nutrient-packed glass of juice a day
For a healthier and more youthful lifestyle, it is important to consume a balanced blend of fruits and vegetables of varying colours and flavours.

Enjoy the rich flavours and health benefits you deserve with the Hurom HA-2600 Classic Series Slow Juicer.
See Hurom Recipes